macOS 10.13 High Sierra release date, news and features
In a matter of weeks, macOS High Sierra will have been out for three months, but that hasn't stopped it from receiving persistent support on behalf of Apple.
The latest version of the Cupertino tech giant's Mac operating system, abbreviated macOS and formerly known as Mac OS X, macOS 10.13 High Sierra was revealed at Apple's Worldwide Developers Conference (WWDC) back in early June 2017.
Being titled so similarly to its predecessor – macOS 10.12 Sierra – High Sierra prioritizes refinement over groundbreaking shifts in function. In doing so, it offers very few dramatic changes to the way you will use your Mac in the coming year.
In fact, the most notable inclusions are a new file system and better tools designed for photo editing. Safari has also seen massive improvements, though our readers already using Google Chrome or Firefox aren't likely to notice. While virtual reality support was a more surprising treat, you will need a powerful discrete GPU to take advantage of it.
After growing accustomed to the original macOS Sierra throughout much of 2016 and 2017, you can at least take solace in our impression that it won't take long to adjust to macOS High Sierra. And, although it experienced a rocky start at launch, Apple has introduced a deluge of stability updates to make up for it.
At the time of this update, we're on version 10.13.2 of macOS High Sierra, but 10.3.3 was recently issued to developers. So, it's only a matter of time before the rest of the public gets to take advantage of its various bug fixes and performance enhancements. For now, we can rejoice knowing all that macOS High Sierra has to offer right now.
Cut to the chase
What is it? The 2017 edition of Apple's Mac operating system, macOS
When is it out? Available to install as of September 25
What will it cost? macOS High Sierra is free to download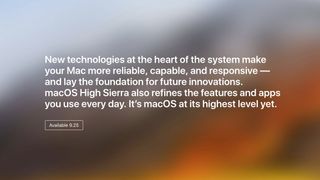 macOS 10.13 High Sierra release date
Apple unveiled macOS 10.13 High Sierra at the WWDC 2017 keynote event, which came as little surprise, given that it's traditional for Apple to announce the latest version of its Mac software at its annual developer event.
Yet, it wasn't until September 12 that Apple revealed that the full version of High Sierra would release just a week and a half later, on September 25. There was a developer version of the operating system you could enroll in leading into the final release, but fortunately that's no longer necessary to take advantage of the latest features found in macOS 10.13.
Rather, by opening the App Store, it's now easy as cake to download the full retail version of macOS High Sierra. Better yet, it doesn't cost a thing, aside from the Apple tax you've already paid for owning a Mac computer. It's 4.8GB in size, which isn't tiny. But, then again, it's also replacing your existing build of macOS, or OS X if you're stuck in dinosaur times.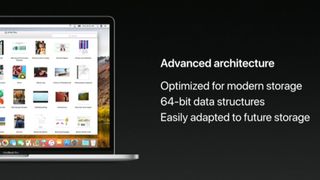 macOS 10.13 High Sierra features
Despite some Hackintosh users being rightfully worried about the newly enforced security checks on EFI firmware automatically deployed every week, Apple has introduced a number of exciting new features with macOS 10.13 High Sierra.
These include improvements to Safari – which will now thwart ad-tracking and auto-playing videos – and a more comprehensive Spotlight Search in the Mail App. Moreover, when you're writing emails, the app now allows split view for the compose window – and, to make matters better, it uses up to 35% less disk space.
The Photos app has been updated in macOS 10.13 High Sierra as well, with a better sorting tool to boot. All of this is complemented by a new layout, better facial recognition thanks to neural networks, and better syncing across all Apple devices.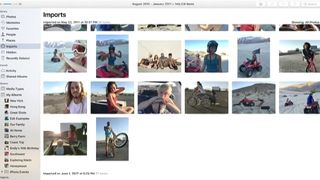 Editing tools, too, have seen improvements, in turn making it easier than ever to enhance the quality of your photos without learning the ins and outs of Photoshop or Camera RAW. And of course, you can count on Instagram-like filters being a part of this.
One of the biggest changes that comes with macOS High Sierra is with the file system. It's ditching the HFS – which Apple has used for around 30 years, and is now using the Apple File System (APFS) instead.
Every Mac that's upgraded to macOS High Sierra will make this files system change automatically with the exception of those sporting Fusion Drives and older HDDs. Likewise, all new Macs will ship pre-formatted for APFS.
To be exact, APFS is a 64-bit file system that supports native encryption and faster metadata operation. This may all sound a bit techy, but the bottom line is that this will make your Mac feel a lot faster, while also being more secure and more transparent about the nature of your files and folder contents.
The update also brings HEVC, or H.265, video compression to the Mac. Apple claims that this new standard can compress video files 40% more than the previous-generation H.264 standard. The end result will be faster video streams at higher resolutions – ahem, 4K – and smaller video files sizes when stored locally.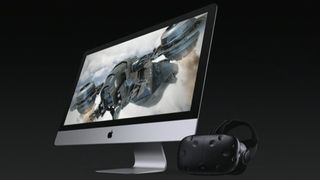 VR finally comes to the Mac
One of the biggest bits of news surrounding macOS High Sierra is that it will finally bring support for virtual reality headsets officially. Namely, the HTC Vive and Steam VR will work with Macs running the new OS this autumn.
However, to use such a device, you'll need at least a 5K iMac or MacBook Pro – or, any Mac that can run the new OS with an external graphics card box attached via Thunderbolt 3. Support for such devices will come part and parcel with macOS High Sierra, but won't be an active function until spring 2018.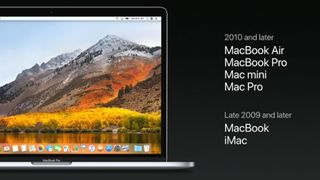 macOS 10.13 High Sierra compatibility
Fortunately, in the act of creating a macOS iteration that only moderately shakes things up, the barrier to entry didn't change at all. As long as you're rocking one of the following Mac models, you'll be good to go with macOS High Sierra on day one:
Bear in mind that if you want to take advantage of the High Efficiency Video Coding (HEVC) benefits posed by macOS High Sierra, you'll need a Mac donning – at the very least – an Intel sixth-generation Skylake processor. Unfortunately, that discounts everything released prior to 2015, but on the bright side, everything else macOS High Sierra brings to the table is fair game.
Joe Osborne and Gabe Carey have also contributed to this report